Visit our Original Hawaiian Chocolate Plantation in Kailua Kona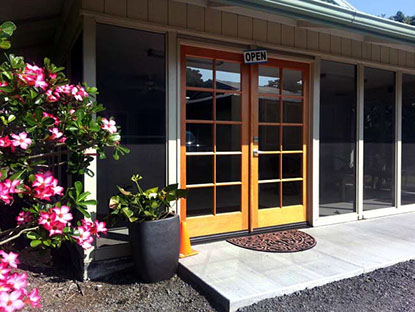 Directions to Original Hawaiian Chocolate Plantation:
1. From the main intersection downtown Kailua-Kona, HI
2. QUEEN KAAHUMANU HWY/HAWAII BELT RD/HI-11 intersection with PALANI
ROAD. GO SOUTH. Continue to travel South on Highway 11 for 4.8 miles.
3. Turn LEFT onto KAMEHAMEHA III RD. ( this is the 8th traffic signal South from the Palani Road intersection)
4. Turn RIGHT at the stop sign onto WALUA RD. 0.1 miles
5. Turn LEFT onto KAHOOLELE ST. 0.1 miles (This street is only 200 yards South of the Walua Road stop sign)
6. Turn RIGHT into the FIRST and ONLY driveway. Our black gate will be open and there is a gold OHCF logo on our rock wall. Once you turn into the gravel driveway take the FIRST paved drive to the left. Follow parking sign.
End at 78-6772 Makenawai St, Kailua Kona, HI 96740-8958 US. Our driveway is actually on Kahoolele Street. 808-322-2626.
Open Tuesday - Friday from 10:00 til 3:00
Closed Saturday, Sunday, Monday
We look forward to seeing you and educating you on the world of Original Hawaiian Chocolate!
Chocolate is Aloha!
The OHC 'Ohana